Minimum 4 and maximum of 24 paddlers
Larger numbers can be accomodated, with planning
Wander on water to reward your workers. Celebrate successes, impress your clients or do some team bonding with a difference. 
Whether it be the Swan and sunset BBQ or the Canning River and refreshments, the pace and place is yours to choose. Take your team paddling to secluded beaches, through the Historic town of Guildford or wander where the river widens, close to where the action of the city is.
There is also Canning Regional Park hidden in Perth's southern suburbs which can provide a perfect post-paddle picnic spot or playground for more team bonding. You'll stumble across this natural beauty after gliding down the Canning River amongst the paperbark trees.

You choose:
     •     Location
     •     Duration
     •     Numbers
     •     Refreshments
Whatever you choose for your day, we are here to ensure its memorable and rewarding. You'll walk away feeling recharged and ready to take on your next corporate challenge.
REFRESHMENTS
BYO or let us take care of the catering for you…
Catering charges:
Morning Tea $12.00 per person
Nibbles $12.00 per person
Lunch or BBQ meal $23.00 per person
PRICING
Price on application based on what you'd like for your day.
Phone Leonie on 0412101949 or leonie@waterwanderers.com.au
LOCATION
Anywhere on the Swan or Canning Rivers.
DURATION AND NUMBERS
Starting at 2 hours but can be anywhere up to a full day of activities
We need at least 4 paddlers and a maximum of 24
Larger numbers can be accommodated, just ask us!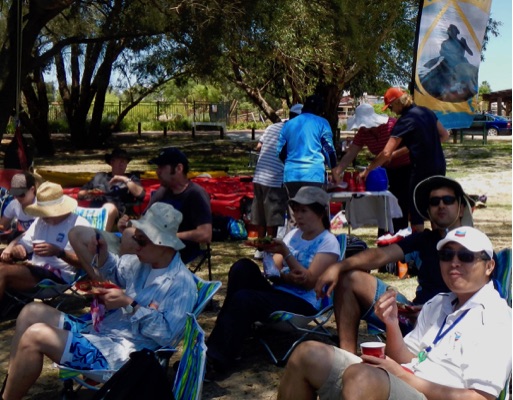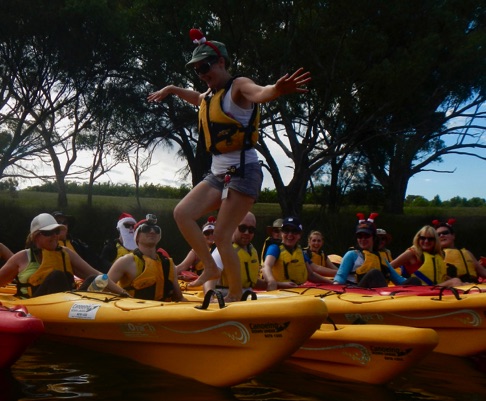 "….the gang had a wonderful time. The food was thought to be particularly
good as well so well done on the culinary side. I understand that it is home-made nosh too. I am going to see the boss about another session for the many people who were not able to make it…"
"Just wanted to say thank you and let you know that everyone had a great time. Loved the kayaking and the food was a great hit!"
"I just wanted to let you know that we had a FANTASTIC time on Wednesday. We couldn't stop talking about it and even now. You are a legend and know your stuff about the area which makes it that bit better. YOUR LUNCH WAS INCREDIBLE!!!! I would do the tour again just for the lunch.
Thank you so very much for taking us and being one of the LJ Hookers for the day."