Wander on water where the majestic cityscape looks over you, and the diamond waters sparkle and glow in the setting sun. This fully guided 2 hour tour takes you along the South Perth shoreline to explore the historic swan estuary as the sun goes down over the water and the city lights begin to shimmer.
Join us to wander on a waterway that comes to life with birds and fish as they feed before the sun disappears for the day, beside a backdrop that is breathtakingly beautiful.
We'll teach you all the basic paddling techniques before we set out on our city sunset tour. Our completely stable kayaks will ensure your wander is wobble-free. Suitable for beginner paddlers through to advanced.
Presenting Perth in its best light, this tour truly has the wow factor
COST: $100 per paddler
DAYS: Every Sunday
TIME: Current time: 5.00 pm (seasonal for sunset)
Tours are between 2  and 2.15 hours in duration.
LAUNCH LOCATION
Meet us near Coode Street Jetty South Perth. There is metered parking available.
Look for our black trailer loaded with red kayaks. I try to park in the boat trailer ramp que parking, which is between the jetty and the boat ramp. We arrive a bit before the meet time and then with your help we unload the kayaks onto the grass and get ourselves ready for a paddle.
WHAT'S INCLUDED?
Double touring kayak and all equipment
A fully guided tour and safety briefing with an experienced guide
Basic technique instruction
We will take some photos if requested
WHAT TO WEAR AND BRING?
Comfortable clothing appropriate for the weather that day
Footwear that can get wet or bare feet
Sunscreen
Water to drink while paddling
Change of clothes and towel for after paddling if you want
PUBLIC TOILETS
Located at Mends Street Jetty
EXTRAS
We can provide you with water proof bags to keep any belongings dry. The kayaks have front water proof hatches.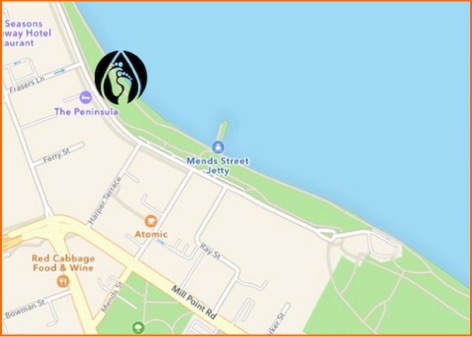 BIRAK
BUNURU
DJERAN
MAJKURU
DJILBA
KAMBARANG
December – January
February – March
April – May
June – July
August – September
October – November  
5.15 - 7.15 pm
5.15 - 7.15 pm
4.30 - 6.30 pm
4.15 - 6.15 pm
4.45 - 6.45 pm
5.00 - 7.00 pm
1st summer
2nd summer
Ant season
Cold time
Growing time
Wildflowers
By Ferry -  7 minute journey from Elizabeth Quay Ferry Terminal, in Perth.  
By Bus - bus route 34 and disembark on Mill Point Road just before Mends Street and walk 340 meters towards Peninsula Apartments
By Car - park anywhere along the South Perth Esplanade and walk towards the Peninsular Apartments at 58 South Perth Esplanade, South Perth
From Burswood Casino - Disembark at Elizabeth Quay Busport and walk down to Elizabeth Quay Ferry Terminal.
Or
For those fancying some fitness, its a 4.7 km walk along the river path to the meet location.
$100 pp minimum of 2 per booking. Group of four $300 per booking