'Go With The Flow' Paddling Weekend
South Yunderup, Western Australia
Saturday 19th and Sunday 20th October 2019
WHAT'S INCLUDED?
Double Touring Kayak and gear (Paddle, PFD, Waterpoof Bags, Festival Chairs, Eskies etc).
Fully Qualified Paddling Instructor, Leonie Cockman, Water Wanderers.
Adventurous Women Host and Paddler, Anna Crampton
Basic technique instruction if required.
Trailer transfer of all kayaks and gear to/from launch area.
Twin share accomodation at River Resort Villas, South Yunderup (all linen included).
2 Morning Teas, 2 Lunches, 1 Dinner and 1 Breakfast. The food is fantastic!
WHAT TO WEAR AND BRING?
Comfortable clothing appropriate for activity
Footwear that can get wet
Water to drink while paddling
Paddling, bike or sport gloves is suggested for extra comfort
MEET LOCATION
Saturday 27 October 2018 meet at 8.30am in the car park at the end of Tatham Road, South Yunderup. This is the end of day one paddling and walking distance to the River Resort Chalets, our overnight stay.
BOOKINGS and further information
THE TOUR
Day One of paddling is a tranquil meander through Marrie and Redgums with occasional small sandy beaches. After a few kilometres the river starts to widens and we will see houses lining the banks and a bit more river traffic. In the afternoon we call in for pit stop at the Ravenswood Tavern before finishing our paddle at the beach near the River Resort Villas
Time to chill out, shower, sauna, spa or kick back with a relaxing book and a cupa. Sunset drinks and nibble followed by a great food and great company
Day Two paddling is through a scenic network of canals at the mouth of the Murray River and out into the Peel Inlet. Lunch stop is the historic Cooper Mill. Both days include an abundance of river wildlife.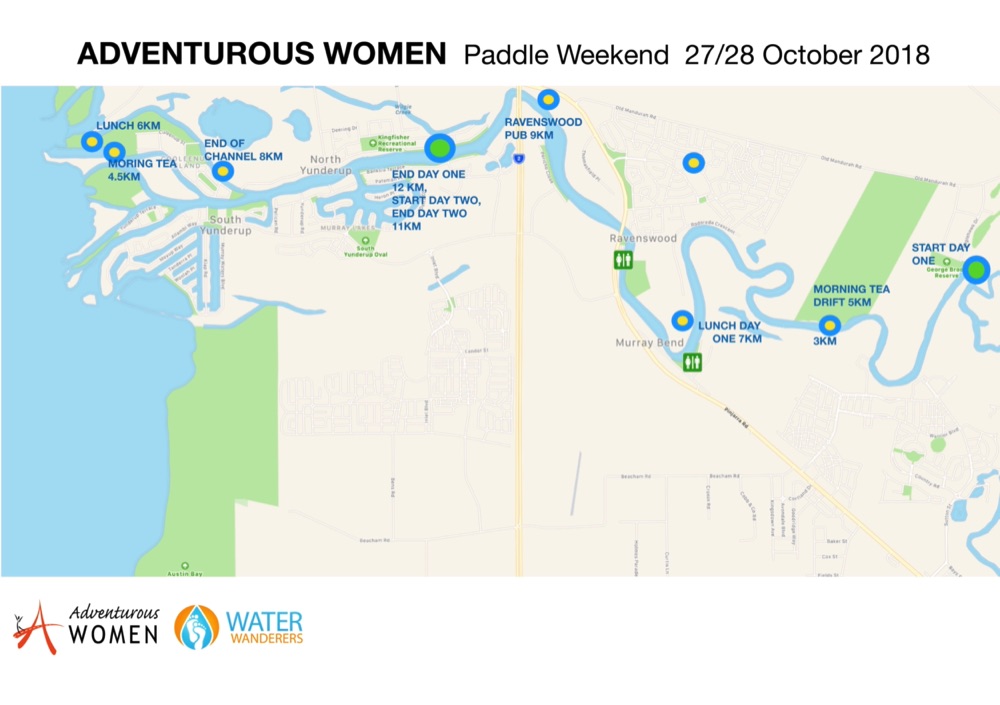 Water Wanderers has teamed up with Adventurous Women to provide an overnight paddling trip, on the Murray River near Pinjarra - South Yunderup area. It is a weekend two day, all inclusive guided kayaking tour. Everyone is welcome, from experienced paddlers to amateurs wanting to learn new skills
More information and BOOKINGS are on the Adventurous Women website